11 August 2021
Extasis - Piazzolla 100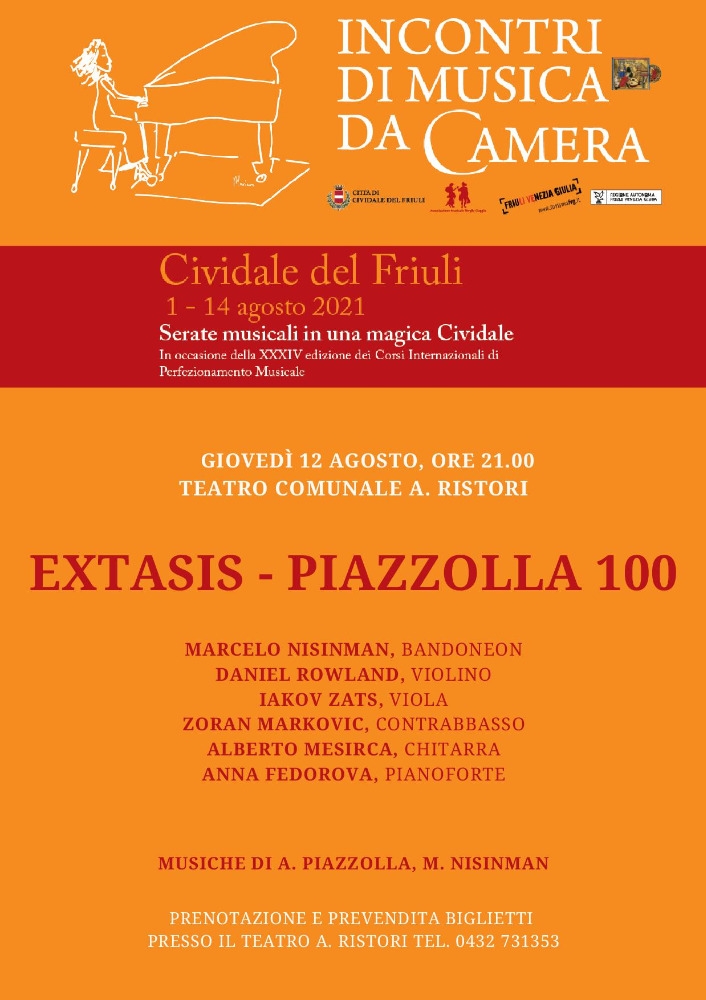 Associazione Musicale Sergio Gaggia
Città di Cividale del Friuli


Regione Friuli Venezia Giulia





1 - 14 agosto 2021Cividale del Friuli






Incontri di Musica da Camera





XXXIV edizione

Thursday August 12th
Municipal Theater A. Ristori - at 21.00
Extasis - Piazzolla 100

Marcelo Nisinman, bandoneon
Daniel Rowland, violin
Iakov Zats, viola
Zoran Markovic, double-bass
Alberto Mesirca, guitar
Anna Fedorova, piano

Music by A. Piazzolla, M. Nisinman
Even the Chamber Music Meetings cannot avoid a tribute to the centenary of Astor Piazzolla's birth. And how not to do it having among the teachers the bandoneonist Marcelo Nisinman, one of the very few composers in the world who is credited with the merit of a further evolution of the great tradition of tango. His fame is also testified by the credit he has been given by a list of extraordinary partners of planetary fame, including Gidon Kremer, Gary Burton, the Assad brothers, Fernando Suarez Paz, Charles Dutoit together with the Philadelphia Orchestra, and recently Marta Argerich! The program, in addition to some unfailing masterpieces by Astor Piazzolla, will present music by Nisinman himself, compositions that let filter in watermark the closeness of the artist with the French cultural world and that propose and often represent the alienation of the South American training in a city like Paris, which became his adopted home. On stage his usual partners, Daniel Rowland, Zoran Markovic and Alberto Mesirca.
All events will be limited in number
Entrances
full price €8.00
reduced course students €3.00

Ticket reservation and presale service
at the ticket office of Teatro Comunale A. Ristori
tel. 0432 731353
from 09.00 a.m. to 12.00 noon and from 2.00 p.m. to 5.00 p.m.
Please advise in case of withdrawal
In case of availability, tickets can be purchased at the concert venues 30 minutes before the beginning of the concert.
Locations, programs, performers, dates, times and admission conditions of concerts may be subject to change due to force majeure.
More information about the program and the location of the concerts on: www.perfezionamentomusicale.it

Please note that all anti-Covid precautions will be strictly taken:
- request to show the Green Pass or the negative result of the molecular or antigenic swab performed in the previous 48 hours.
- mandatory use of masks
- provision of dispensers for hand sanitation
- space sanitation
- Interpersonal distancing of at least 1 m.
- Absolute prohibition of gathering
- conservation of the list of participants for the following 15 days