11 August 2021
In memoria di Corinne Chapelle
L'Adagio di Samuel Barber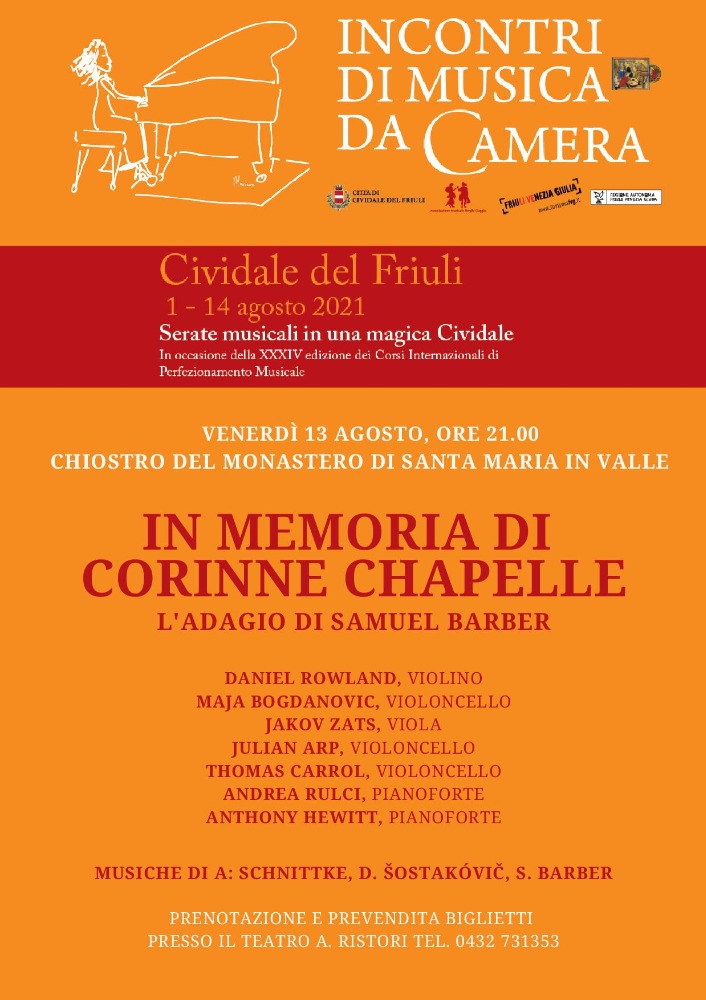 Associazione Musicale Sergio Gaggia
Città di Cividale del Friuli


Regione Friuli Venezia Giulia





1 - 14 agosto 2021Cividale del Friuli






Incontri di Musica da Camera





XXXIV edizione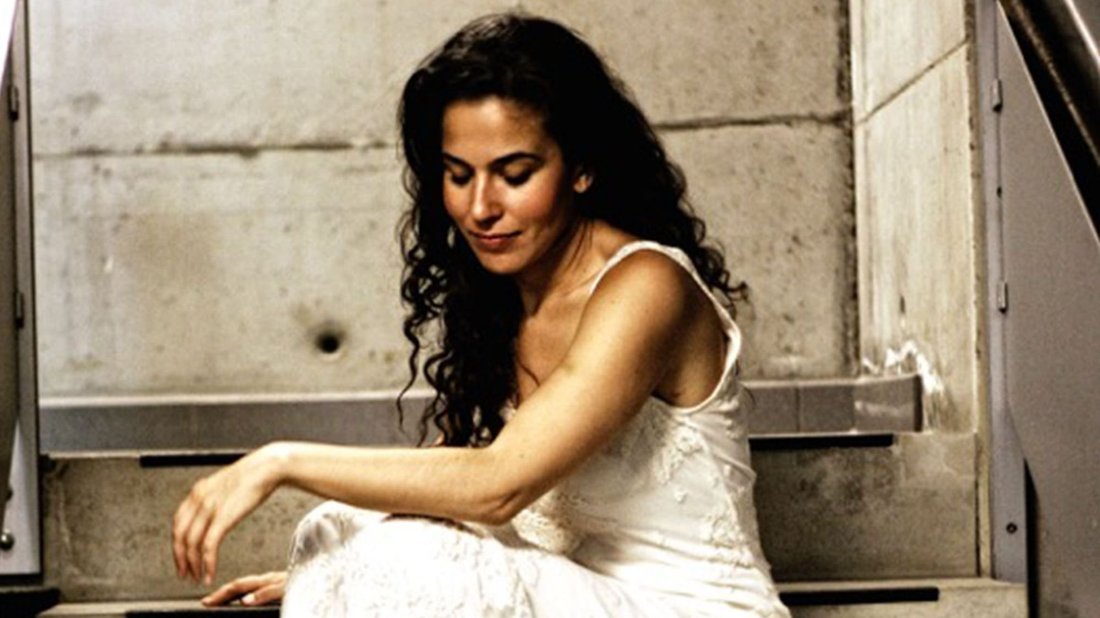 Friday 13th August
Cloister of the Monastery of Santa Maria in Valle - 9.00 p.m.
In memoria di Corinne Chapelle
L'Adagio di Samuel Barber


Daniel Rowland, violin
Maja Bogdanovic, cello
Jakov Zats, viola
Julian Arp, cello
Thomas Carrol, cello
Andrea Rulci, piano
Anthony Hewitt, piano

music by A: Schnittke, D. Šostakóvič, S. Barber
A few years ago, David Cohen, a cellist who has participated in our courses for several editions, introduced us to his new partner, Corinne Chapelle.
She was a woman of rare and ancient beauty, who seemed to come out of some painting or ancient print depicting scenes of Middle Eastern life.
An excellent violinist, Corinne performed several times with generosity and passion at our festival. Having to remember her in a concert in her memory is still inconceivable to us, but it is our way of embracing David and Leila, only 6 years old, who was conceived in Cividale.
The program will present some dramatic and poignant pieces, such as Schnittke's Quintet and Samuel Barber's Adagio, but also pages full of lightness and serenity.
All events will be limited in number
Entrances
full price €8.00
reduced course students €3.00

Ticket reservation and presale service
at the ticket office of Teatro Comunale A. Ristori
tel. 0432 731353
from 09.00 a.m. to 12.00 noon and from 2.00 p.m. to 5.00 p.m.
Please advise in case of withdrawal
In case of availability, tickets can be purchased at the concert venues 30 minutes before the beginning of the concert.
Locations, programs, performers, dates, times and admission conditions of concerts may be subject to change due to force majeure.
More information about the program and the location of the concerts on: www.perfezionamentomusicale.it

Please note that all anti-Covid precautions will be strictly taken:
- request to show the Green Pass or the negative result of the molecular or antigenic swab performed in the previous 48 hours.
- mandatory use of masks
- provision of dispensers for hand sanitation
- space sanitation
- Interpersonal distancing of at least 1 m.
- Absolute prohibition of gathering
- conservation of the list of participants for the following 15 days