13 August 2021
Tango trasfigurato
la nuova musica di Buenos Aires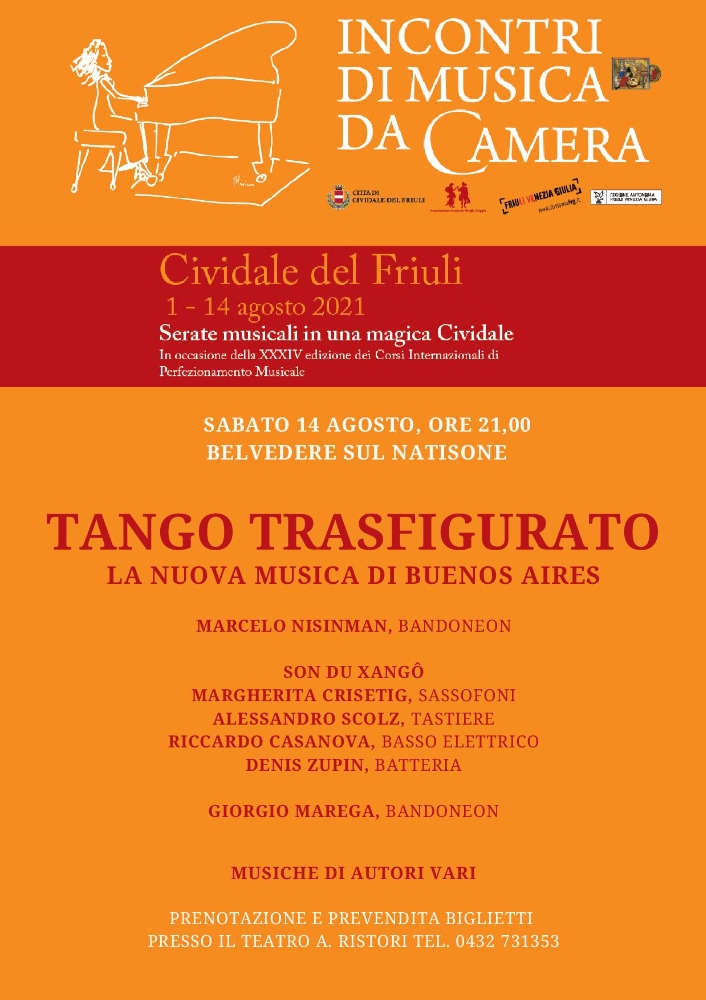 Associazione Musicale Sergio Gaggia
Città di Cividale del Friuli


Regione Friuli Venezia Giulia





1 - 14 agosto 2021Cividale del Friuli






Incontri di Musica da Camera





XXXIV edizione

saturday 14 august
Belvedere sul Natisone - 9,00 p.m.

Tango trasfigurato

la nuova musica di Buenos Aires

Marcelo Nisinman, bandoneon

Son du Xangô
Margherita Crisetig, saxophones
Alessandro Scolz, tastiere
Riccardo Casanova, electric bass
Denis Zupin, drums

Giorgio Marega, bandoneon

Music by various authors


Re-reading of some pages of Piazzolla's Tango Nuevo with sounds that recall the period of revolutionary rupture made by the Argentine composer with the introduction of instruments not traditionally present in the tango such as electric bass, electronic keyboards and drums. Some of Piazzolla's pieces composed during his stay in Italy in the 70's will be proposed, together with other compositions of his last period, such as two pieces taken from the work "Histoire du Tango".
A part of the concert is dedicated to the music of M. Marcelo Nisinman, who with his personal and provocative style breaks the mould of the traditional "Porteña" music. Some of his original compositions will be performed as well as his arrangements of some old traditional tangos.
All events will be limited in number
Entrances
full price €8.00
reduced course students €3.00

Ticket reservation and presale service
at the ticket office of Teatro Comunale A. Ristori
tel. 0432 731353
from 09.00 a.m. to 12.00 noon and from 2.00 p.m. to 5.00 p.m.
Please advise in case of withdrawal
In case of availability, tickets can be purchased at the concert venues 30 minutes before the beginning of the concert.
Locations, programs, performers, dates, times and admission conditions of concerts may be subject to change due to force majeure.
More information about the program and the location of the concerts on: www.perfezionamentomusicale.it

Please note that all anti-Covid precautions will be strictly taken:
- request to show the Green Pass or the negative result of the molecular or antigenic swab performed in the previous 48 hours.
- mandatory use of masks
- provision of dispensers for hand sanitation
- space sanitation
- Interpersonal distancing of at least 1 m.
- Absolute prohibition of gathering
- conservation of the list of participants for the following 15 days