11 August 2021
Romantic Rockoko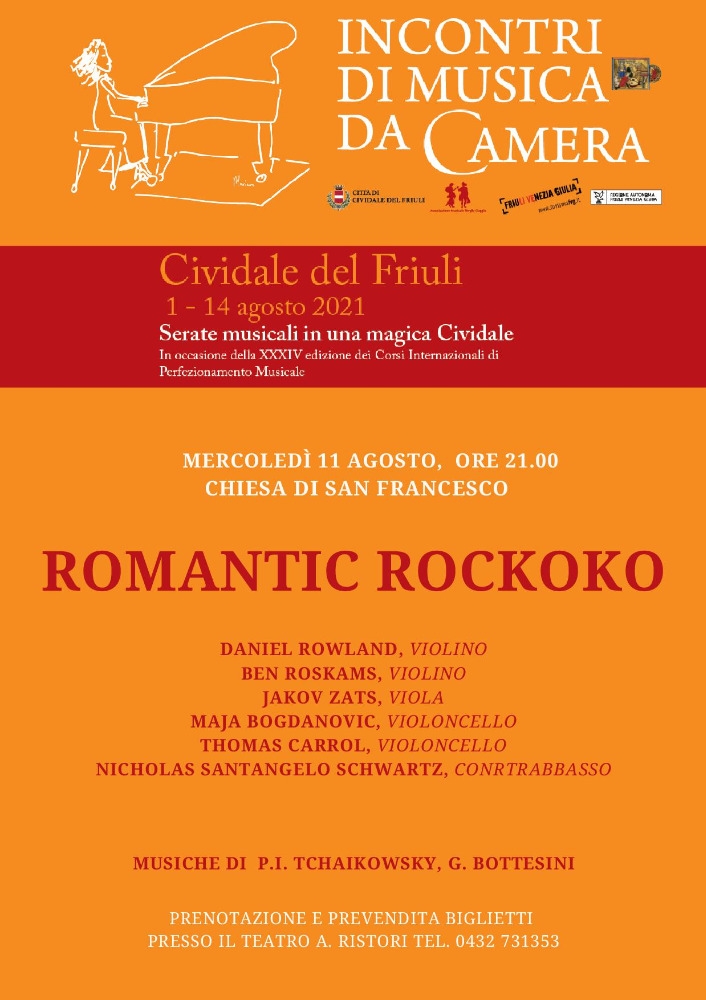 Associazione Musicale Sergio Gaggia
Città di Cividale del Friuli


Regione Friuli Venezia Giulia





1 - 14 agosto 2021Cividale del Friuli






Incontri di Musica da Camera





XXXIV edizione
Wednesday August 11th
Church of San Francesco - 9.00 p.m.

Romantic Rockoko

Daniel Rowland, violin
Ben Roskams, violin
Jakov Zats, viola
Maja Bogdanovic, cello
Thomas Carrol, cello
Nicholas Santangelo Schwartz, double-bass
Music by P.I. Tchaikowsky, G. Bottesini
The virtuosity of every era is in essence a more or less rococo flourish, and in any case a daring complication of a figure (musical in this case) that in its essence is much simpler.
It is also a moment of challenge towards oneself, a ride without a net on the roller coaster of the most impervious difficulties.
The two pieces that form the backbone of this concert rightly represent this repertoire: Tchaikovsky's Rococo Variations for Maja Bogdanovic's cello, Bottesini's Concerto for Daniel Rowland's violin and Nicholas Santangelo Schwartz's double bass are challenges for a few daredevils.
All events will be limited in number
entrances
full price €8.00
reduced course students €3.00

Presale tickets
From Saturday, July 31 at the ticket office of the Teatro Comunale A. Ristori
tel. 0432 731353
from 09.00 a.m. to 12.00 p.m. and from 02.00 p.m to 05.00 p.m.
In case of availability of seats, tickets can be purchased at the concert venues 30 minutes before the beginning of the concert.
Places, programs, performers, dates, times and conditions of access to concerts may be subject to change due to force majeure.

Learn more about the schedule and location of concerts at: www.perfezionamentomusicale.it


Please note that all anti-Covid precautions will be taken strictly:
- request to show the Green Pass or the negative result of the molecular or antigenic swab performed in the previous 48 hours.
- mandatory use of masks
- provision of dispensers for hand sanitation
- Sanitization of spaces
- Interpersonal distancing of at least 1 m.
- Absolute prohibition of gathering
- conservation of the list of participants for the following 15 days