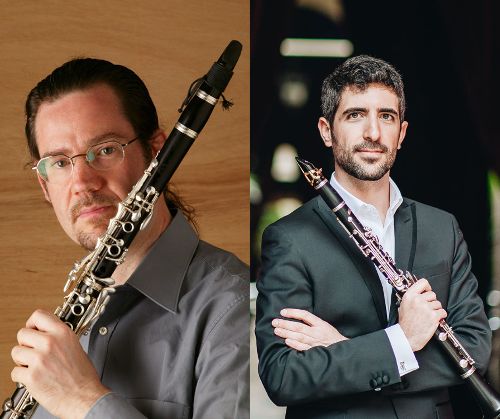 Nicola Bulfone & Marco Giani
Musical instrument:
Clarinet and ensemble music for wind instruments
Biography:


MARCO GIANI
Primo clarinetto dell'orchestra 'I Pomeriggi Musicali' di Milano, si è diplomato con il massimo dei voti e lode con Nicola Bulfone, e poi laureto con lode presso il conservatorio 'G. Verdi' di Milano sotto la guida di Luigi Magistrelli.
Vincitore in numerosi Concorsi Nazionali ed Internazionali, si è inoltre distinto al prestigioso Concorso Internazionale ARD di Monaco di Baviera nel 2012.
In qualità di solista si è esibito con importanti orchestre quali: Münchener Kammerorchester (ARD), Kapelle Dresden Solisten, Deutsche Staatsphilharmonie Rheinland-Pfalz, Orchestra 'I Pomeriggi Musicali', Staatskapelle Halle, e importanti direttori fra cui: Weller, Branny, Rustioni, Altstaedt, Calderon, Caballé-Domenech.
Marco Giani ha suonato in alcune fra le più importanti sale concertistiche in Europa, Asia, Canada e USA: Musikverein di Vienna, Semperoper di Dresda, Konzerthaus Berlin, Teatro San Carlo di Napoli, Louise M. Davies Symphony Hall di San Francisco, Toronto Roy Thomson Hall, Carnegie Hall di New York,...
Nel ruolo di primo clarinetto ha collaborato con numerose orchestre italiane (Orchestra del Teatro alla Scala di Milano, Orchestra del Teatro La Fenice di Venezia, I Cameristi della Scala, Orchestra Haydn di Bolzano e Trento,…) e straniere (Shleswig Holstein Musik Festival Orchester, Verbier Festival Orchestra, Gustav Mahler Jugendorchester,…) sotto la direzione di: I. Metzmacher, D. Gatti, R. Muti, T. Sanderling, C. Eschenbach, C. Zacharias, C. von Dohnanyi, V. Gergiev.
Nel 2014 ha pubblicato insieme a Nicola Bulfone 2 CD dedicati a Ernesto Cavallini per la casa discografica Naxos (world premiere recording).
Nel 2022 ha pubblicato la prima edizione stampata del Concerto n. 3 di A. C. Cartellieri per Trio Musik Edition nella riduzione per clarinetto e pianoforte.
Ha suonato per dirette radio hr2 Kultur , RAI Radio 3, ORF, DRS 2, BR, e Radio Popolare.
Viene regolarmente invitato come insegnante di clarinetto in corsi di perfezionamento musicale, ha collaborato come docente di clarinetto presso il Conservatorio di Musica "F. A. Bonporti" di Trento e attualmente collabora, nel medesimo ruolo, con il Conservatorio "G. Donizetti" di Bergamo.
Marco Giani è Buffet-Crampon Paris Artist.
NICOLA BULFONE
Born in Hässleholm in Sweden, he completed his clarinet studies at the Udine Conservatory, graduating from the school of Maestro A. Pecile with full marks.
From 1985 to 1988 he studied at the Hochschule für Musik in Stuttgart with Prof. Ulf Rodenhäuser (Berliner Philharmoniker), obtaining a higher artistic diploma. Established in various national and international competitions, he attended specialization courses with K. Leister, A. Pay, G. Garbarino. He has collaborated as clarinet, bass clarinet and basset horn with the Orchestra of the Teatro alla Scala in Milan, the Orchestra of the Teatro G. Verdi in Trieste, the Symphony Orchestra of San Remo, the Filarmonica della Scala, the Teatro La Fenice of Venice, the Abruzzese Symphonic Institution, the Symphonic Orchestra of the San Carlo Theater in Naples, the Venetian Philharmonic, under the direction of Masters such as R. Muti, Z. Mehta, G. Sinopoli, R. Chailly, G. Gavazzeni, D. Barenboim.
As a soloist and in various chamber groups, together with V. Mendelssohn, K. Bogino, P. Gallois, P. H. Xeureb, I. Goritzki, U. Rodenhäuser, C. Rossi, the Ensemble Villa Musica, I Solisti della Scala, the Moyzes Quartett, the Tartini Quartet, the Agorà Quartet, the Altenberg Trio and others, has successfully participated in numerous Festivals and concert reviews: Paris Saint Germain, Musica viva Munich, Ludwigsburg, Music in our time Milan, Venice Biennale, Ravello Festival, Klagenfurt, Ljubljana, Middelburg-Holland, Horovitz Festival Europe, Nomus Novi Sad, Mittelfest, Algiers, Budapest, Turin Musical Union, Bratislava, Mexico City, Seville, Stuttgart, Porto, Ankara, Smyrna (Turkey), etc. He has performed as a soloist with the Slovak Philharmonic Orchestra, the Rossini Festival Orchestra in Wildbad, the Collegium Musicum of Udine, the Symphony Orchestra of the State of Mexico, the Udine Philharmonic, the Orquestra do Norte (Portugal), the Vogtland Philharmonie, the Symphony Orchestra of Friuli - Venezia Giulia, the Sofia Philharmonic Orchestra (Bulgaria), the Bialystok Philharmonic Orchestra (Poland), the Rijeka Chamber Orchestra (Croatia), the Krasnoyarsk Orchestra (Russia), the Minsk Orchestra and several chamber orchestras.
He has made radio and television recordings for SWF, MDR, RAI, ORF, BR, SDR, Koper, Art Kanal Beograd. Renowned composers have written solo pieces dedicated to him. He was part of the jury of the International Competition for Clarinet "Saverio Mercadante" (Noci), "Jeunesses Musicales" of Belgrade in 1997 and in 2011 of the "Republika Competition" (Serbia). For years first clarinet of the Udine Philharmonic Orchestra, from 2000 to 2006 he held the same role in the Friuli Venezia Giulia Symphony Orchestra. He is a founding member of the FVG Philharmonic Association. He collaborated as conductor and preparer of the wind section of the Youth Orchestra of the ENFAP professional training courses in Gorizia).
He recorded as a soloist 10 Concerts for two Clarinets and Orchestra on 3 CDs for "Agorà" and for the same label a CD with recording world premiere of Carlo Paessler's Concerts for Clarinet and Orchestra, which he edited for the Kunzelmann Publisher; recently the "Naxos" label released his recording of E. Cavallini's 30 Capricci for Clarinet on a double CD. He has held master classes in Lucca, Tarvisio, Chioggia, Cividale and masterclasses in Riga (Latvia), Ostrava (Czech Republic), Krasnoyarsk (Russia), Fier / Apollonia (Albania), Shenyang and Dalian (China) Columbus (OHIO State) University, USA). He holds the clarinet chair at the Udine Conservatory of Music.
course dates: 1- 8 Agosto 2023
course description:
Participation fee € 300