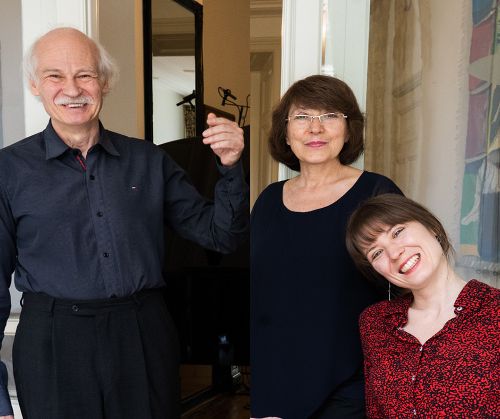 Borys Fedorov & Tatiana Abaieva
Musical instrument:
Piano
Biography:


BORYS FEDOROV
Graduated with an advanced diploma in piano from the Moscow Tchaikovsky State Conservatory, he graduated with honors in 1983. For more than three decades he was professor of piano at the Kiev State Conservatory and at the Lysenko Kiev Specialized Musical College for Exceptional Young Talents. Borys is a concert pianist of rare creative talent, winner of numerous international piano competitions, including a special contemporary music prize (Porto, Portugal; 1993), the A Premio Roussel (Senigallia, Italy, 1994), 2nd Prize (Rome , Italy, 1995) and Grand Prize at the Festival In Memoriam Regina and Vladimir Horowitz (1995, Kiev). In 2020, Borys discovered a hidden talent and passion in composition. His new works have already been heard on Dutch national radio, performed at the Stift International Music Festival and at the 30th anniversary concert of the Dutch record label Channel Classics. Since 1994, Borys has regularly appeared in the National Philharmonic of Ukraine as a soloist and with orchestras. Among the orchestras he has played with are the Porto Symphony Orchestra, conducted by K. Goleminov, the Samara Symphony Orchestra conducted by Mikhail Shcherbakov, the National Orchestra of Ukraine conducted by V. Sirenko and many others. He has also recently performed as a piano duo with his daughter, Anna Fedorova, at the Grote Zaal of the Concertgebouw in Amsterdam and has given a series of solo recitals and masterclasses in Beijing and Hunan province in China. He regularly performs solo recitals in Ukraine and Russia, having recorded numerous times with the National Television and Radio Company of Ukraine. Recordings of him include works by Scarlatti, Haydn, Debussy, Ravel, Albeniz, Rachmaninoff, Messiaen and a large number of Ukrainian composers such as M. Lysenko, Y. Schurovsky and V. Silvestrov. He was also a member of the jury of the Sacred Music Competition (Lugansk, 2000), the Krivoy Rog Regional Piano Competition and the Odessa Silver Note Competition. As a highly successful pedagogue, many of Borys' students are now developing impressive careers around the world. Some of his former students are Vadim Kholodenko, Denis Zhdanov, Anna Fedorova, Sasha Grynyuk, Margarita Golovko and others. Its students regularly perform in the most prestigious concert halls in the world, such as the Concertgebouw Grote Zaal (Amsterdam, Netherlands), Carnegie Hall in New York, Tonhalle in Zurich, the World Forum Theater (The Hague, Netherlands ), De Doelen (Rotterdam, Netherlands), Tokyo Bunka Kaikan, Salle Cortot (Paris, France), Rustaveli Theater (Tbilisi, Georgia), Odeon Iroda Atichnoho (Athens, Greece), National Tchaikovsky Concert Hall (Moscow, Russia), Palacio de Bellas Artes (Mexico City, Mexico), Rhein Mosel Halle (Koblenz, Germany), Warsaw Philharmonic (Poland) and others. In addition to regularly conducting masterclasses in various cities of Ukraine, the Netherlands, China and Greece, he was also artistic director of the Young Concert Pianists of Georgia and Ukraine Music Festival, held in the grand hall of the National Philharmonic, a celebration of Georgia's Independence Day (2007). In 2020 Borys was awarded the title of Honorary Artist of Ukraine, awarded by the country's president for numerous artistic achievements and valuable contribution to the cultural life of Ukraine.
TATIANA ABAIEVA
Tatiana Abaieva is among the most recognized and successful piano teachers in Ukraine. She has a brilliant education, graduating with honors from the Lysenko Music School for Gifted Children (Kiev), the Gnessin Academy of Music (Moscow) and the Tchaikovsky National Music Academy of Ukraine (Kiev). Some of her teachers include the eminent Russian pianist Anatoliy Vedernikov, who was also a student of the legendary Heinrich Neuhaus, and Vladimir Tropp. For over 30 years, she Tatiana has been a piano teacher at the Kiev Specialized Musical College For Gifted Young Talents, where she has managed to create her own distinctive teaching style which is the development of each student's unique imagination and creative qualities. . She is also known for having excellent contact with students. His personalized approach to musical analysis does not stop at traditional structures and forms. She works with students on emotion, color and deeper meaning, helping them find their own voice. Her students have won over 100 international piano competitions in USA, Poland, Greece, Italy, Switzerland, Portugal, Belarus, Russia, Estonia, Slovakia, Czech Republic, Georgia, Latvia, Ukraine, including prestigious competitions such as: - Tbilisi International Piano Competition (Denis Zhdanov, the youngest finalist at the age of 16) receiving the 4th prize and the special prize for the best interpretation of classical sonata - International Competition for Young Pianists Arthur Rubinstein in memoriam (1st prize in two different editions) - Frederick Chopin International Piano Competition under the patronage of Martha Argerich in Martigny, Switzerland - MacKenzie Awards Piano Competition at IKIF (New York, USA) - International Competition for Young Pianists in memory of Vladimir Horowitz in Kiev - Volodymyr Krainev International Competition for Young Pianists in Kharkiv - Carl Cherny International Competition for Young Pianists in Prague - International competitions for young pianists in Kosice (Slovakia), Riga (Latvia), Narva (Estonia), Antonin (Poland), Gomel (Belarus) and many more Tatiana's students continued to study and work in the United States, Canada, United Kingdom, Portugal, Switzerland, Austria, Italy, China. Those and have become such successful concert pianists as Denis Zhdanov, Oleksandr Chugai, Anastasiya Dombrovskaya, Anna Vertipoloh and many others. Anna Fedorova, the daughter of Tatiana Abayeva (whom she mentored during her school years together with her husband, Borys Fedorov), is now regarded as one of the best pianists in the world and has performed with the best orchestras. Tatiana Abaieva was the winner of the international chamber music competitions Pierre Lantier (Paris) and Caltanissetta (Italy), where she performed in duo with her brother, Alexander Abayev (violin). She has performed solo and chamber in some of the most important clubs in Ukraine and abroad. Tatiana has also recorded for the Ukrainian national radio on many occasions and has published articles in publications. She is often invited as a jury member to national competitions and festivals in Ukraine and regularly holds masterclasses. He organizes studio tours for her students in Ukraine, as well as in Belarus (Gomel, 2004), Spain (Barcelona, ​​2018 and Alicante, 2017,2018), Portugal (Madeira, 2019) and the Netherlands (Schiedam, Amsterdam, 2017). Tatiana has received a number of awards from the Ministry of Ukraine among them are the Prize for Valuable Cultural Achievements with honorary recognition of the Ministry of Culture of Ukraine, recognition of the Prime Minister and Minister of Culture of Ukraine, numerous awards from administrations regional cities of Ukraine and international diplomas for the preparation of winners for international competitions. Tetiana received the honorary title of Honored Worker of Culture of Ukraine.
course dates: 8 - 14 agosto 2023
course description:
Participation fee € 300