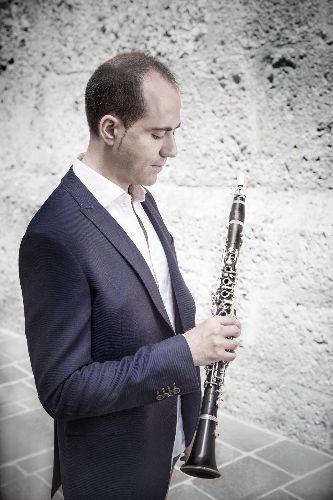 Dario Zingales [NEW ENTRY]
Musical instrument:
Clarinet
Biography:


Dario Zingales studied in Milan, with Prof. Luigi Magistrelli where he graduated with honors for both his first and second degrees. Since 2007, he has studied at the University Mozarteum with Prof. Alois Brandhofer (principal clarinet of Berlin Philharmonic).
In 2012, he completed his Master's degree at Mozarteum with honors.
He is a founding member of the clarinet quartet Fusion Clarinet Quartet with whom he won the Ferrero award for wind ensembles in 2005.
Zingales was invited to play for the Società del Quartetto and had also participated in the international MITO Festival in September 2007.
Zingales frequently collaborated with the Milano Classica Orchestra, with Salzburg Chamber Soloists and recently with the Teatro Petruzzelli Orchestra of Bari (Italy). He performed under the Andrè Previn's conduction, Gerd Albrecht and Dennis Russell Davies.
He was also invited to play with the Luigi Cherubini Orchestra under the baton of Riccardo Muti.
From August 2009 to September 2012, Zingales was principal clarinet for the Philharmonie der Nationen conducted by Justus Frantz (performing many concerts in America, Belgium, Germany, France, Greece, Italy, Austria, Spain, Switzerland, and Russia). He has been collaborating since 2012 at Bavarian Gut-Immling Opernfestival.
He playes since 2012 as principal clarinet by Gut-Immling Opernfestival in Bayern.
As a soloist, he as performed the Sinfonia Concertante KV 297b and the Clarinet Concerto by Mozart with the Symphony Orchestra of the Mozarteum University. In December 2011 he performed the Clarinet Concerto from Mozart with much critical acclaim under the direction of Josef Wallnig in Linz.
Zingales is a permanent member of the Bläserphilharmonie Mozarteum, with whom he has already recorded many CDs.
As a chamber music musician, he has performed with many great performers such as Wenzel Fuchs, Lukas Hagen, Benjamin Schmid, Pierre Amoyal, Thomas Riebl, Pavel Gililov, Peter Lang and Jacques Rouvier.
He recorded many CDs productions for important Labels as Deutsche Grammophon, Brilliant Classics, Urania Records, Da Vinci Edition, VDE-Gallo.
Dario Zingales has given masterclasses in Argentina (San Juan) and Serbia (Novisad) and Austria.
From 2012 to 2017 he had been Assistant of the Prof. Alois Brandhofer at Mozarteum University (Salzburg). Since October 2015 he has being assistant of the Prof. Wenzel Fuchs at the same University.
In December 2018 he obtained the "venia docendi" at the Universität Mozarteum. Following this, he leads his class at the same institute.
E-Mail:
dario@zingales.net
Web:
www.zingales.net
course dates: 31 luglio - 3 agosto 2023
course description:
Each participant will be able to attend 2 lessons daily: one individual and one group lesson.
The group lesson will concern general technical problems and the Orchestral Solos of the clarinet.
Participation fee 300 €