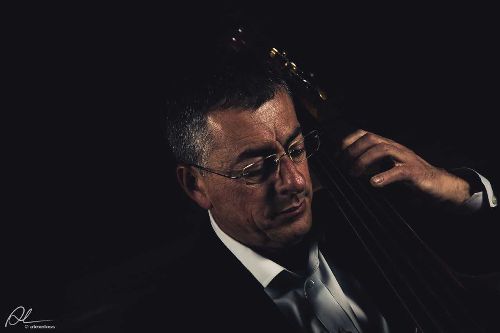 Gabriele Ragghianti [NEW ENTRY]
Musical instrument:
double bass
Biography:


He was born in Lucca, he began his musical studies at the "Luigi Boccherini" Music Institute, graduating under the guidance of Maestro S. Grazzini with full marks, praise and special mention of the Ministry of Education. He has been awarded in various national and international competitions. He played with the Orchestra "A. Toscanini" of Emilia Romagna, as first double bass. Always as first double bass he has collaborated with many other orchestras including: Orchestra Regionale Toscana, Teatro Comunale of Bologna's Orchestra, I Virtuosi italiani, the Chamber Orchestra of Mantua, the Gulbenkian Orchestra of Lisbon, the Italian Chamber Orchestra of Salvatore Accardo, the Orchestra of the Teatro S. Carlo of Naples. Since 1988 he has been the first solo double bass of the chamber group "I Solisti Veneti". He has performed as a soloist in more than 85 different countries in highly prestigious festivals and halls and in front of many heads of Been to over 3,000 concerts.
He performs chamber music collaborating with internationally renowned musicians. He has made numerous radio and television recordings in Italy and abroad, he also took part in over 150 CDs' recording with various formations and collaborating with world-renowned soloists. She is currently Professor of Double Bass at the Royal College of Music of London and at the ISSM "Luigi Boccherini" from Lucca, he has been instructor for Colorado Boulder's University's studies abroad programme, he is invited as professor by important musical institutions in various parts of the world and, as a teacher, soloist and jury member at major festivals international as ISB in the United States, Galicia Graves in Spain, Bass Europe etc. He has been Artistic Director and organizer of BASS EUROPE 2018 LUCCA, bringing together in hundreds of events over 900 double bass players from all over the world. He plays an instrument built by Maestro Cristiano Scipioni and an arch by Maestro Walter Barbiero.
course dates: 1 - 5 Agosto 2023
course description:
Participation fee € 300