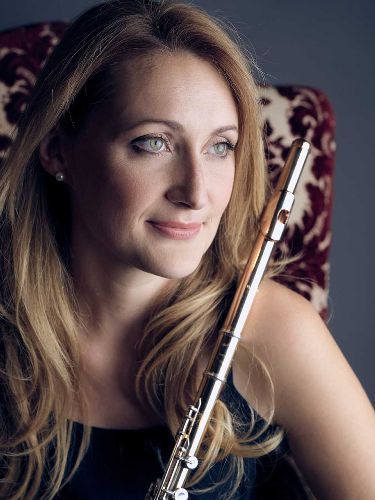 Alice Morzenti [NEW ENTRY]
Musical instrument:
Flute
Biography:


Alice Morzenti was born in Clusone (Bergamo), Italy, in 1987 and started to play flute at the age of 7. She graduated at the Brescia Conservatory with top honors, plus distinction and mention.
After, she studied with Davide Formisano at the "Hochschule für Musik und Darstellende Kunst" in Stuttgart and with Mario Caroli at the "Académie Supérieure de Musique" in Strasbourg.
Very young she was in final at the competition "Ponchielli" in Cremona and she won "I giovani per i giovani" in Ravenna, "Bazzini" for the chamber music and "Manenti" for soloist with orchestra in Brescia, "Krakamp" in Benevento, "Nuovi Orizzonti" in Arezzo, "International flute competition" in Ovada and the scholarship "Severino Gazzelloni" in Firenze. She won in duo with piano the "International competition Marco Fiorindo" with Irene Veneziano.
She has performed in several recital, chamber music and soloist with orchestra, in Teatro S.Carlino and Auditorium S. Barnaba (Brescia), "Amici del Loggione del Teatro alla Scala" (Milano), "Festival Severino Gazzelloni" (Firenze), Falaut Festival (Milano), Flautissimo Festival (Rom), Teatro Dal Verme (Milano) where she played the Mozart Quartets with the first parts of "I Pomeriggi Musicali" and Festival di Cernobbio with Salvatore Accardo and the Orchestra da Camera Italiana . She has taken part in several masterclasses held by Giampaolo Pretto, Michele Marasco, Jean Claude Gerard, Andrea Oliva, Maxence Larrieu, Patrick Gallois and Emmanuel Pahud.
From 2005, at the age of 18, until 2012 she collaborated with "Orchestra" and "Filarmonica of Teatro alla Scala" under the direction of J.E. Gardiner, Donato Renzetti, Andrew Davis, Georges Pretre, Valery Gergiev, Daniel Barenboim, Daniel Harding, Simon Bychkov, Gustavo Dudamel, Zubin Metha, Lorin Maazel and Riccardo Chailly.
In 2006 she won the audition for first flute al the "Pomeriggi Musicali Orchestra" and she played with well-know directors, as Aldo Ceccato, Antonello Manacorda, Hanjöerg Schellenberger, Gabor Ötvös, Lukasz Borowicz and Enrico Dindo.
She collaborated as first flute with the "Orchestra del Teatro Comunale di Bologna", "Filarmonica of Teatro alla Scala", "Münchner Bachsolisten", "Münchner Rundfunkorchester", "Münchener Kammerorchester, "Teatro Regio" in Turin, "Gran Teatro la Fenice" in Venice, "Bayerische Staatsorchester" and "Bamberger Symphoniker" under the direction of Myung-Whun Chung, David Afkham, Fabio Luisi, Daniele Gatti, Gianandrea Noseda and Kirill Petrenko.
Since 2013 she is principal flute in the Staatstheater in Nuremberg and she teach at the University of music in Nuremberg and Freiburg im Breisgau.
course dates: 1 - 5 Agosto 2023
course description:
Participation fee 300 €