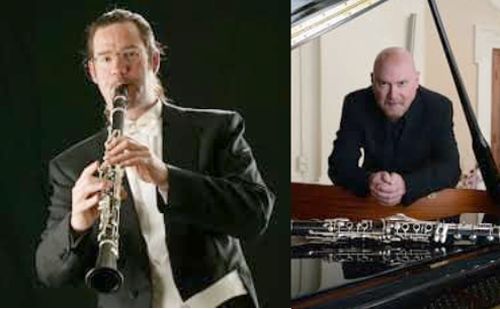 Nicola Bulfone e Luca Saracca
Musical instrument:
Clarinet and ensemble music for winds
Biography:


Nicola Bulfone
Nicola Bulfone was born in Hässleholm (Sweden) in 1963. He studied clarinet at the Udine Conservatory under A. Pecile and passed his final exam with top marks. From 1985 to 1988 he continued his music studies at the Hochschule für Musik in Stuttgart under Prof. Ulf Rodenhäuser (Berlin Philharmonic Orchestra), where he obtained an Advanced Diploma in Clarinet. Among other awards, in 1983 he won first prize at the International Music Competition in Stresa. He also attended Master Classes held by K. Leister, A. Pay and G. Garbarino (Accademia Chigiana, Siena). He has played clarinet, bass clarinet and basset horn in a number of orchestras, among which: the Teatro alla Scala Orchestra, the Teatro G. Verdi Orchestra, Trieste, the San Remo Symphony Orchestra, Filarmonica della Scala, Teatro La Fenice, Venice, Teatro San Carlo, Naples, the Orchestra Sinfonica Abruzzese. He has participated in various Music Festivals and Concert Seasons both as soloist and with several Chamber Music Ensembles (Paris St. Germain, Musica Viva Munich, Ludwigsburg, Milan, Venice Biennale, Ravello, Klagenfurt, Middelburg Holland, Horowitz Festival Europe, Nomus Novi Sad, Ljubljana, Rossini Festival Rügen, Rotte Mediterranee Algiers, Budapest, Bratislava, Mallorca, Mexico City, Sevilla, Oporto…) He played as soloist with the Slovac Philharmonic Orchestra of Bratislava, the Rossini Festival Orchestra, the Udine Chamber Orchestra, the Orchestra Sinfonica del Estado del Mexico, the Udine Philharmonic Orchestra, the Orquesta do Norte (Portugal), the Orchestra Sinfonica del Friuli – Venezia Giulia, the Sophia Philharmonic, the Bjalistok Philharmonia (Poland), the Rijeka Chamber Orchestra ( Croatia ), the Vogtland Philharmonie, the Krasnojarsk Orchestra ( Russia ), the Minsk Orchestra, and various chamber orchestras. He has recorded for SWF, RAI, ORF, BR, SDR, Koper and Art Kanal. Many renowned composers have written solo pieces for him. He was from 1994 until 2006 teaching clarinet at Gallarate Conservatory and in international master classes in Lucca, Tarvisio, Cividale, Chioggia, Gorizia, Ostrava ( Chek Republic ), Riga, Apollonia ( Albania ), Krasnojarsk ( Russia ), Shenyang and Dalian ( China ) . In 1997 he was a member of the jury at the "Jeunesses Musicales" International Clarinet Competition in Belgrade. He has recorded three CDs for the Agorà label containing music for two clarinets and orchestra and has made a first world recording of the concertos for clarinet and orchestra by Carlo Paessler. He was solo clarinet in the Udine Philharmonic Orchestra, in the Orchestra Sinfonica del Friuli Venezia Giulia and founder member of the Associazione Filarmonica del Friuli Venezia Giulia. He is professor in the Clarinet class of the Udine Conservatory.
Luca Saracca
Luca Saracca was born in Perugia (Italy), studied clarinet at the Conservatory of Music "Francesco Morlacchi" and graduated very young under the guidance of Professor Ciro Scarponi. He also attended master classes with Jesus Villa Rojo, Vincenzo Mariozzi (Accademia di Santa Cecilia) and Harold Gomberg for chamber music. In 1991, he studied at the Salzburg Mozarteum Akademie with Professor Alfred Prinz (Wiener Philarmoniker) where he also played basset horn. He, along with pianist Corrado de Bernart, performed as a duo for more than 20 years as well as with different chamber music ensembles and orchestras. Saracca has also played basset horn with the OFM Orchestra Filarmonica Marchigiana. He was the Assistant Professor of Ciro Scarponi for many years and also served as teacher of clarinet and basset horn in seminars and master classes in Perugia, Pesaro and Visso.
Saracca has participated in various music festivals including Spoleto 2 World Music Festival, Festival Pontino, Biennale in Venice, Tribina Compositora of Beograd, and in concert seasons in Italy, Germany, Poland, Czech Republic, Slovakia, Serbia, France, Belgium, Istanbul (Turkey) and the US (San Francisco and Bay Area). He played clarinet and basset horn in the Namaste Clarinet Quartet (NCQ), which was a winner and finalist in more than ten international chamber music competitions. NCQ performed in Italy and Europe in many concert seasons and festivals (Umbria Jazz Festival and Umbria Jazz Winter), recorded CDs with MPS England, Egea Quadrivium (with the famous jazz soloist Gabriele Mirabassi), Castellano Records, EdiPan, Italian Television and Radio (RAI) and Vatican Radio, performing works of renowned composers that have written for the ensemble. He has also been member of the jury at the International Competition in Stresa for 16 years and in Capri for 1989-90.
Saracca's teaching career began in 1981 at the Conservatory of Music "Gesualdo da Venosa" in Potenza. Following that appointment, he then taught at the "Gioachino Rossini" in Pesaro for 23 years. Since 2006, he has served as Professor of Clarinet at the Conservatory of Music "Francesco Morlacchi" in Perugia where he is also a member of the Academic Council and Head of the Communications Office.
In 2012, Saracca served as creator, director and conductor of the music appreciation program "L'anima di Hegel e le mucche del Wisconsin." After three season, the program was turned (in October 2014) into the radio program "Blue Monday," which airs every Monday at 9 p.m. on Umbria Radio F.M. and is streamed worldwide. Saracca also worked together with his colleague Piero Vincenti to commission the lecture "Ciro Scarponi – A Life for Clarinet & Contemporary Music" for the Assisi ClarinetFest. This lecture evolved in to a concert-conference for the 2014 Mid-America Clarinet Festival at Ohio State University and in 2016 at the European Clarinet Festival in Camerino, Italy.
During the ClarinetFest in July 2018 he was appointed as Chair of International Relations by the Board of Directors of International Clarinet Association.
Luca Saracca plays Herbert Wurlitzer Reform Boehm Clarinets.
Web:
www.nicolabulfone.it
Tel/Fax:
0039 0432 581635
course dates: 1-8 Agosto
course description:
Participation fee € 270