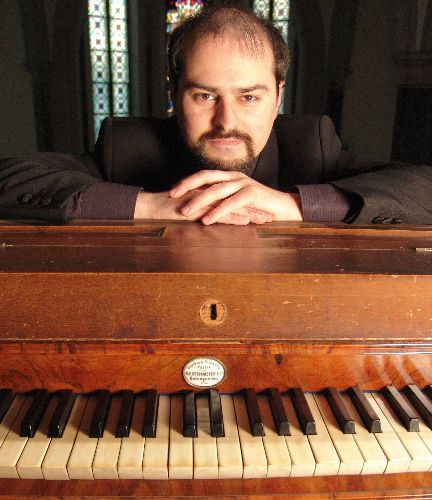 Manuel Tomadin
Musical instrument:
Organ
Biography:


Manuel Tomadin graduated in Piano (maximum of the votes), Organ and organistic composition, Harpsichord (votation 110 Cum Laude); he took a degree in harpsichord in the University of Udine (with a Thesis about the Goldberg variations from J.S.BACH votation 110 Cum Laude). He also devotes himself constantly to the executive praxis of the Renaissance and Baroque music and also through the study of the essays and the tools of the epoch.
He has followed courses of improvement with Claudio Astronio, Andrea Marcon, Michael Radulescu, Luca Scandali, Ferruccio Bartoletti, Peter Planyavsky, Olivier Latry, Paolo Crivellaro, Jon Laukvik, Ludger Lohmann, Gustav Auzinger, Hans Fagius, Peter Van Dijk, Francesco di Lernia, Eric Lebrun, Teo Theoliema. From 2001 to 2003 he has studied in the Schola Cantorum Basiliensis (Switzerland) with Jean Claude Zehnder and Andrea Marcon. He firmly collaborates with the M° Staropoli Manuel and it belongs to the group of ancient music "Terg Antiqua" with original instruments. It develops intense activity concert in Italy and in Europe.
He recorded with many labels such ase Brilliant, Bongiovanni, Tactus, Fugatto, Bottega Discantica, Toondrama, Centaur Records, Stradivarius e Dynamic playing with Historical Organs of the Friuli Venezia Giulia. It is also teacher of the courses of Music for original instruments, Harpsichord and historical Organ to the Summer musical Courses in Sappada (Belluno, Italy) Staatliche Hochschule fur musik und Darstellende kuns in Mannheim (Germany), Sv Stanislava of Lubijana und in Beograd Accademy.
He taught organ and organ composition at the Conservatory "G. Nicolini" of Piacenza, "N. Rota" of Monopoli and Harpsichord at the Conservatory "B. Marcello" in Venice. was organist of the Chapel in the Cathedral chapel Civic of Trieste from 2004 to 2008.
He won 4 prizes in important national organistic contests and 6 prizes in international contests, such as the first prize in Fussen - Breitenwang - Mittenwald's contest and the second prize with first not assigned in the prestigious contest of Paul Hofhaimer in Innsbruck for two times ( 2006 – 2010). He won the Grand Prix d'ECHO 2011 in the Alkmaar Schnitger Competition. He is artistic director of the Organ International Festival in Udine and Antonio Vivaldi Festival of Trieste.
course dates: 1 - 4 Agosto 2023
course description:
Participation fee € 300